OMG so mah name is .........actually, im not gunnat ell u bcuz idont want stalkerss111!!! LOLZ becaus hu wuldnt wanna stak me??? ha hahaahahahahahahahaa!!!!!!! ya u kno us want 2. :DDDDDD
ok soim focusssing on my 1 sotrie rite now but iz gunna hav a sequel so look out Meretrix-luvrs!!!
mah favorite asssssssasssssssin is SUICIDE cux hes SO KEWL!!!! EVERYBODY SAYS SO AND HES SO AwEsOmE iluv him!!!!!! i was orgininainally going to hav mah screennnnname be "XX_SuIcIdE_S_GuRl_XX" but i <3 teh hole PPCC!!! so ima lik e t3h PPC PRINCESS GETTIT????
hERE aRE mY 2 fAVORITE cHARRIES!!!:
Meretrix Sasha Alabama Divinia Gloria Jewel Ontario Putain Winter Sunshine-Spitowski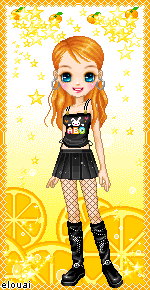 imade a doll of her at elouai wich is a dollmaker for pretty peepl liek me!! Meretrix is reely pretty shes got ocean cerooolean blu eyes like t2h ocean & amber sunset autum hair!!!!! she looks just liek me actualy i actualy haav those boots tahts y shes wearing dem (LOLZ SHE TSOLE TEHM!!! :DDDDDD LOLZOLZOLZOLOZLOLZ!!!)
Suicide
omiG hes liek t2h PPC's hawtttest ASSASSSSSIN!!!!!!!!!!! !WHAT ELSE IS THERE TO SAY??!?! & HES ALL MINE HANDS OFF!
neway plz read my ficcy11!!!!! I <3 CONCRIT AND NO FLAMERS!!!!!